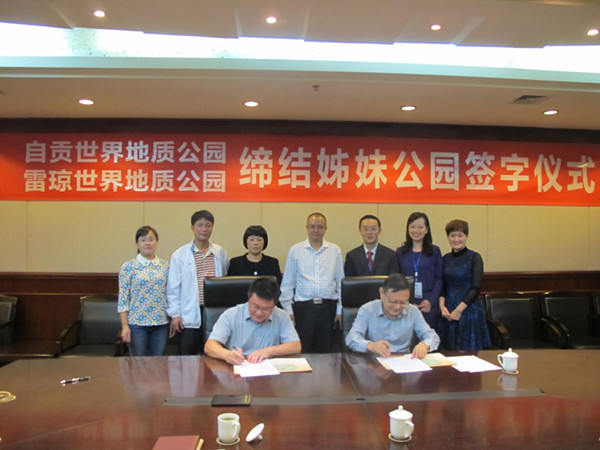 In order to enhance the exchange and collaboration between the geoparks on geological scientific research, scenic area management and environmental protection, Leiqiong global geopark has signed contract with Zigong global geopark to establish Sister-park relationship in Huidong hotel of Zigong city on October 16, 2015. Han Guihong-vice director of Zhanjiang Huguangyan scenic spot management bureau and Yu Dadong-vice director of Zigong land and resources bureau, along with Dai Yanling-vice director of Zigong culture and media management bureau and Wanyi-curator of Zigong Dinosaur Museum attended the signing ceremony.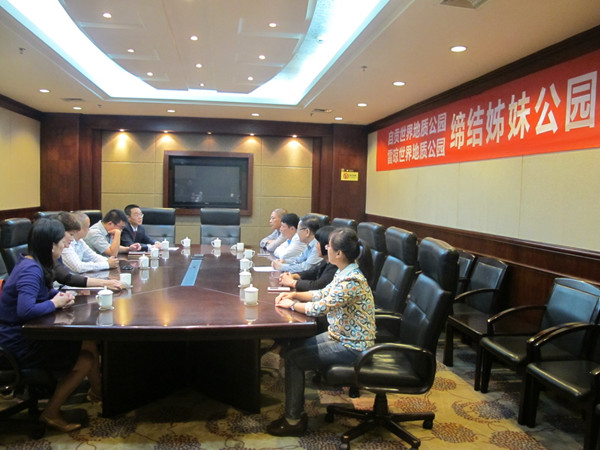 On the signing ceremony, representatives from Leiqiong geopark and Zigong geopark brief the recent developments of the geopark respectively. Wanyi-representative from Zigong global geopark & Zigong Dinosaur Museum said Leiqiong global geopark is famous for its spectacular volcanic landscape, is not only beautiful, but also has a professional team protecting and constructing this magical ¡°volcanic kingdom¡±. Zigong global geopark is willing to work with Leiqiong global geopark to protect geological resources. Han Guihong-representative from Leiqiong global geopark and Zhanjiang Huguangyan scenic spot management bureau said the geological resources, ecological environment and rich in natural resources of Leiqiong geopark are very well preserved. The establishment between two geoparks will effectively promote the exchanges and cooperation in the fields of geological science research, scenic management, environmental protection, personnel training and so on.
Leiqiong global geopark is located on both sides of the Qiongzhou strait at the southern region of China, belongs to Leiqiong volcano belt. The geopark consists of Zhanjiang (Guangdong) scenic region and Haikou (Hainan) scenic region, covers an area of 379 km2, was approved by UNESCO global geopark network in 2006, passed the revalidation of global geopark network successfully in 2010. It is an integrated geopark region which mainly includes maar-type volcanic geological landform, together with a great variety of geological heritages such as coastal landform, tectonic geological landform, etc. In recent year, support by all levels of the authority, the geopark has made notable progress in geopark construction and geological resources protection.
Zigong Global Geopark is located in Zigong, China, a famous city called as ¡°the salt capital of over one thousand years, the hometown of dinosaurs and the lantern city in South China¡±.It covers an area of 56.62km². The geopark is composed of Dinosaur Area, Well-Salt Industry Area and Qinglongshan Area .As the core scenic area of the geopark, Dinosaur Area is a spot to make scientific popularization, promote the study of geological knowledge, carry out geotourism, and scientific expedition and research. It covers area of 8.7km² including the Zigong Dinosaur Museum in Dashanpu Dinosaur Fossil Site, the Silicified Wood Site in Changshan Range, Ziliujing Anticline, and typical stratigraphic sections of the Ziliujing Formation.Well-salt industry area displays the rich resources of salt and natural gas, long history and glorious culture of well-salt industry. It covers an area of 1.92km², including Zigong Salt Museum the Museum of Well-Salt Industry History, and ancient salt wells such as Shenhai Well, Jicheng Well and Dongyuan Well.Qionglongshan area displays fossil localities and sites, the natural ecology of tree ferns, and the places of cultural interests. It covers area of 46km² including Qionglongshan Dinosaur Fossil Site, Rongxian Dinosaur Fossil Localities, and Jinhua Tree Fern Flora.